Visit to Helsinki (July 16-23)
Jul 21, 2013
Having an opportunity to visit Helsinki during the peak of the blistering summer heat in Japan has been a necessary relief. With temperatures soaring near 36 degrees in Tokyo, I felt like I could finally enjoy the outdoors after arriving in Helsinki, which hover at a cool 18 degrees. With the sun setting at 10:30PM, this is the place to be in summer!
On day 1, we explored Esplanade Park and Market Square.
Esplanade Park
Fruit Vendor in Market Square
Helsinki Senate Square
Helsinki is quite compact, and for an avid walker, the distances are not far. It is much easier however, to get around on the trams. I bought a 7-day pass for just 32 Euros, giving me unlimited rides on the trams, buses, and subway.
Trams, the most convenient way to get around this compact city
From July 17-21, Helsinki celebrated the arrival of over one hundred imposing sailing vessels sailing into the harbour with
The Tall Ships Races
.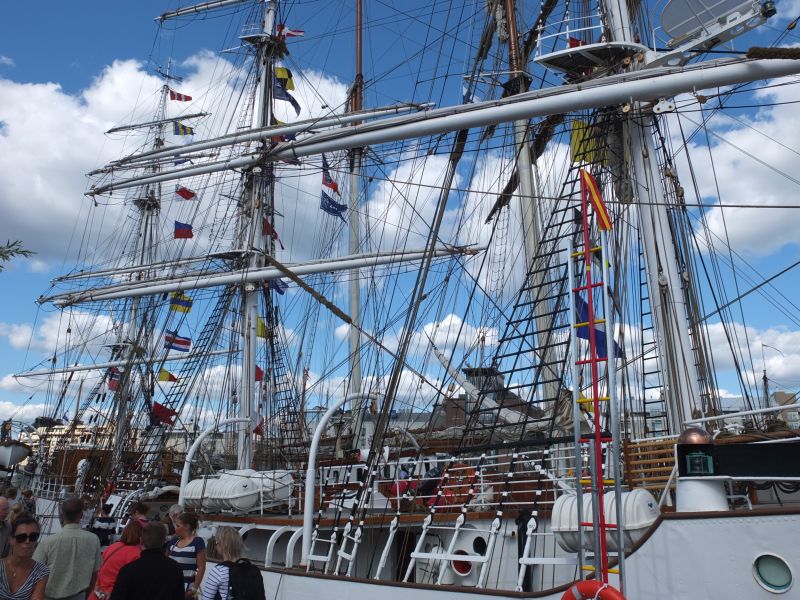 Tall Ships in West Harbour, July 17-20, 2013
On day 2, we went to the
Arabia Outlet
, located near the terminal stop of tram route 6. Although it is a bit out of the way, this outlet is a must for connesiours of Finnish design. The prices of the various discounted items were not much less than those found in the city shops, but it was convenient to be able to visit
Iittala
,
Finlayson
, and
Pentik
under one roof.
Pentik Store in the Arabia Outlet
In the afternoon we returned to downtown Helsinki and took some time to explore the shops along the Esplanade. I was especially impressed with the architectural design of the
Akateeminen Bookstore
.
Akateeminen Bookstore, Helsinki
Day 3 was the highlight of my visit so far! We visited
Ainola
, the home of Aino and Jean Sibelius. As a composer, visiting a place like this is a kind of pilgrimage.
The grave of Jean Sibelius
The home of Jean and Aino Sibelius
In the afternoon, I visited the
Kamppi Chapel of Silence
, which offers a moments of quietude in the center of this bustling city. The architectural features were a wonder to behold, and in terms of function and concept, it reminded me of the
Rothko Chapel
in Houston. In the evening, I ate dinner at one of Helsinki's most traditional Finnnish restaurants,
Kolme Krunna
(Three Crowns).
Ceiling of the Kamppi Chapel of Silence
Kammpi Chapel of Silence, viewed from Narinkkatori Square
Roasted duck at Kolme Kruunua
On day 4, we were supposed to go to Tallin, Estonia for the day. However, it took much longer than we anticipated to reach the ferry terminal, and we missed the boat! The Japanese guidebook るるぶ says that the terminal is within walking distance from the subway terminus Ruoholahti. Perhaps, but it is too long and too conjested with construction. For future travelers, make no mistake, tram route 9 is the way to go, and is much less crowded than tram 6. Having an entire day on our hands, we decided to go to the
Marimekko Outlet
, located a 10-minute walk from Herttoniemi station. Exhausted from the mad dash to catch a ferry that we had absolutely no chance of getting on, I took a deep nap in the afternoon before venturing back to Helsinki Senate Square to finally purchase an item that I have had my eyes on since arriving, a gorgeous
laptop bag
(from a future purchase of a 13-inch MacBook Air!) from
Lumi
.
Luckily, we were able to exchange our ferry tickets for another day, so on day 5, we took a day trip to Tallin, Estonia. I was so excited about this trip, since one of my favorite composers, Arvo Pärt, is Estonian. We spent most of our time in the historic Old Town. The Tallin Tourism Board writes this about Old Town:
"Twisting cobblestone lanes and iron street lamps. Gothic spires and medieval markets. Cappuccino and Wi-Fi. This is the city's famous Old Town. If you're looking for that mix of historic ambience and cutting-edge culture that defines Tallinn, you'll find it here.Built up from the 13th to 16th centuries, when Tallinn – or Reval as it was known then – was a thriving member of the Hanseatic trade league, this enclosed neighbourhood of colourful, gabled houses, half-hidden courtyards and grandiose churches is, quite rightly, the city's biggest tourist draw. And the fact that it's all neatly packaged within a mostly-intact city wall and dotted with guard towers gives it an extra dose of fairytale charm. Tallinn Old Town is listed in the UNESCO World Heritage List."
Tallink, the ferry from Helsinki to Tallin
View of Tallin from St. Olaf's Church
On day 6, the weather was cold and rainy. We showed up at 2:00 at the Helsinki Design Store for a Design Destrict walk and were informed that reservations needed to be made at least an hour beforehand. Normally, this wouldn't be a problem, but because nobody else had signed up for a tour, the tour guide was called at 1:00PM and informed that the tour was cancelled because there were no participants. So, we took a look around the shops by ourselves. My favorite was a design shop called
formverk
, which had a dazzling array of exquisitely designed furniture and object for the home.
Storefront of formverk
On day 7, we finally got a chance to particpate in the Design District Walk. The tour guide adjusted her schedule to meet us at 10:00AM rather than at the usual 2:00PM an account of my plane flight to Barcelona at 5:30PM. On this tour, we waslked through a residential district of tour that I hadn't yet explored near Tähtitorninvuoren and Kaivopuisto parks. Our tour guide took us along the sea and we stopped by a
Mattolaituri Cafe
, which was featured in the Japanese movie
かもめ食堂

/Kamome shokudō
. The views of the sea from along this promenade were simply breathtaking.
Along the promenade
Washing rugs with seawater, a traditional Finnish custom
I almost forgot to mention one of the elements of this trip that made it so enjoyable. When I when younger, I didn't mind paying rock bottom for a dorm bed in a youth hostel. Now that I'm a bit older, I prefer to stay someplace that I can enjoy coming back to, with some comfort, space, and style. Of course, since my stays tend to be a bit longer than the average tourist, I can't quite afford staying in a luxurious hotel, so I often search for a good coombination of comfort and value. Since 2011, I have been using
Airbnb.com
both as a traveler and as a host.
My accomodation rental in Helsinki
turned out to be on the of the best Airbnb experiences to date. After doing extensive research to find reasonably-priced, central accommodation I was disappointed to find how expensive Helsinki was. Even shared AirBnB rentals in Helsinki tend to be a bit overpriced. Then I found Kristian's apartment. The apartment is spotlessly clean, tastefully decorated, and has a full kitchen and washing machine. It is located just a 10-15 minute from the center of the city. Alternatively, a tram can whisk you there in just a few minutes. The convenient airport bus is just a few minutes walk from the apartment. The neighborhood is quiet and safe, and the apartment building overlooks a gorgeous canal. Kristian waited patiently for me at the bus stop upon arrival and left some fruit and water for me in the frig as well as maps and other info. Communication was a breeze and he responded promptly to all inquiries. You can't go wrong renting this apartment!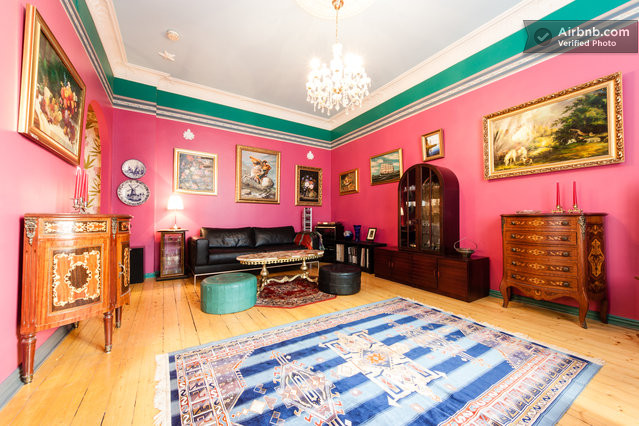 My apartment rental in Helsinki, tastefully adorned with art
It is with a sentimental heart that I leave Helsinki for another adventure in Barcelona, but I hope to come back again someday soon. Although winter promises a set of challenges with cold temperatures and limited daylight hours, I imagine that the city becomes a winter wonderland with the outdoor markets and lights adorning the shops. And as a summer destination, I'd be hard pressed to find a city that is more desireable than Helsinki!