The Summer School was organized into two blocks of two days each and at four different levels (beginners, elementary, intermediate, and advanced) and classes of 75 minutes. Teachers included
Kaoru Kakizakai,
Veronique Piron
,
Kiku Day
,
Gunnar Jinmei Linder
, and
Jim Franklin.
However, the schedule above was not really applicable to me because I participated in a shakuhachi making workshop with
John Kaizan Neptune
! I was given a harvested piece of bamboo of a 2.75 length (F#), and was taught from start to finish how to make a shakuhachi from it. It was truly fascinating to make a instrument with my own hands, and I now have renewed appreciation for the craftsmanship that goes into making an instrument as intricately detailed as a shakuhachi. I have also come to realize why shakuhachi cost what they do. Compared to expensive Westerm orchestral instruments like the bassoon or violoncello, I never really thought that shakuhachi were overpriced by any means. However, I now feel that some makers–like John Kaizan Neptune–make their instruments available at rock-bottom prices if you consider how much time, experience, and craftsmanship is necessary for making one.
My 2.75 (F#) before I started to work on it
John demonstrating how to "open up" the bore
John demonstrating how to "tune" the shakuhachi by testing out pressure points
There were concerts held on evening of July 25 and 27. Both of these days were extremely long. Every day classes began at 9:30AM, and with less than an hour between late afternoon roundtable discussions and presentations by visiting composers and the 8:30PM concerts, this means that we didn't even begin to think about dinner until after 10:00PM! Needless to say, my stomach took quite a beating during the week, as I am not used to eating so late. In fact, many of the tourist guide books remind the reader that if choose to eat dinner before 9:00PM, that you'll likely be along and/or with foreign tourists. It is well-documented and researched that
eating late at night is not part of a healthy lifestyle
, and may even contribute to weight gain. So, how do the Spaniards do it!?!?! It was fascinating to observe
Spanish culinary culture
and contrast it with our eating habits in the USA.
My first shakuhachi teacher, Kaoru Kakizakai performing Yamagoe
After the Summer Camp was over I had two days for sightseeing in Barcelona. On Monday, July 29, I spend the day with Kiku Day and two French participants at the camp, José and Martine. In the afternoon, we went to
Park Güell
, "a garden complex with architectural elements situated on the hill of El Carmel in the Gràcia district of Barcelona, Catalonia, Spain. It was designed by the Catalan architect Antoni Gaudí and built in the years 1900 to 1914." It was a very hot and humid day, but well worth the effort to hike to the top of the park for the views alone!
View of Barcelona city center in the distance from the top of Park Güell
Afterwards, we went to Passeig de Gràcia and checked out one of Gaudi's most striking architectural masterpieces,
La Casa Batlló
. We were planning to have afternoon coffee/tea and tapas at
Tapas24
, but were unable to get a seat.
La Casa Batlló
So, we continued on to Catalunya and took a stroll down
Las Ramblas
. I finally had a chance to check out what is evidently a thriving retail music score that sells scores. Although I didn't buy anything, it was great to see such a retail store thriving, since institutions like
Patelson's Music House
in New York have gone out of business.
Casa Beethoven, heaven for a music connesiuer
Afterwards, we stopped by
La Boqueria Market
, a feast for the eyes! All kinds of food products were sold here, from fruits and nuts, to Greek yogurt and cow's heads!
La Boqueria Market
Candy vendor at La Boqueria Market
Nut vendor at La Boqueria Market
Delicious cherries at La Boqueria Market
We attempted to buy tickets for the last performance of Madame Butterfly at the
Gran Teatre del Liceu
, but tickets were a whopping 177€! Instead, we went shopping at a
Arts Escudellers
, an enormous emporium of household arts, crafts, and ceramics from all over Spain! I bought two flower vases from
Córdoba
.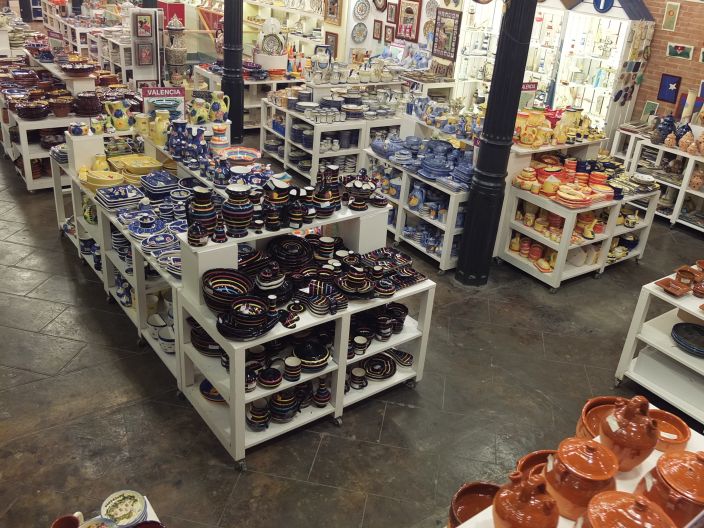 Inside of Arts Escudellers
For dinner, we made a trek halfway across town to an area less-visited by tourists called L'Eixamplea.
Bar Ramón
, a local tapas bar was probably the only place I dined during my entire week in Spain where not one word of English was spoken. Was it worth the trek! The place was completely packed for guests who made reservations in advance from 9:00PM~, but we were offered a table if we agreed to eat within 75 minutes. This was, by far, the best meal I had in Barcelona!
Highlights of Bar Ramón: Tomato, melted cheese, and olives
Highlights of Bar Ramón: Seasoned peppers
Highlights of Bar Ramón: Calamari
On Tuesday, July 30, I ended up spending the day by myself. I was supposed to meet Kiku, José, and Martine at Barceloneta station at 1:00PM, but I found out the next day that everyone was 20 minutes late. I must have just missed them! Nevertheless, I enjoyed exploring the boardwalk area along the beach. I ate a delicious and inexpensive bento box on
La Barceloneta boardwalk
and rented an
electric scooter
for an hour. The sea looked beautiful and I really wanted to go for a swim, but I didn't have my bathing suit with me and was afraid to go swimming and leave my valuables on the beach, as there are evidently many pickpockets and bag snatchers in Barcelona.
La Barceloneta Boardwalk
In the mid-afternoon, I experienced one of the highlights of my trip to Barcelona; visiting
Sagrada Familia
. According to Wikipedia:
"The
Basílica i Temple Expiatori de la Sagrada Família
(English: Basilica and Expiatory Church of the Holy Family;Spanish:
Basílica y Templo Expiatorio de la Sagrada Familia
), commonly known as the Sagrada Família, is a large Roman Catholic church in Barcelona, Catalonia, Spain, designed by Catalan architect Antoni Gaudí (1852–1926). Although incomplete, the church is a UNESCO World Heritage Site, and in November 2010 Pope Benedict XVI consecrated and proclaimed it a
minor basilica,
as distinct from a
cathedral
which must be the seat of a bishop. Though construction of Sagrada Família had commenced in 1882, Gaudí became involved in 1883, taking over the project and transforming it with his architectural and engineering style—combining Gothic and curvilinear Art Nouveauforms. Gaudí devoted his last years to the project, and at the time of his death at age 73 in 1926, less than a quarter of the project was complete.Sagrada Família's construction progressed slowly, as it relied on private donations and was interrupted by the Spanish Civil War—only to resume intermittent progress in the 1950s. Construction passed the midpoint in 2010 with some of the project's greatest challenges remaining
and an anticipated completion date of 2026—the centennial of Gaudí's death."
I was simply overwhelmed by the majesty of this site. There is only one place on earth that I can say I have been more deeply moved; the
Gulfoss waterfall
in Iceland.
View of Barcelona from the top of the Sagrada Família
Visitors have the choice of taking the elevator down, or descending twelve flights of stairs. I opted for the stairs, and was rewarded with the following sight!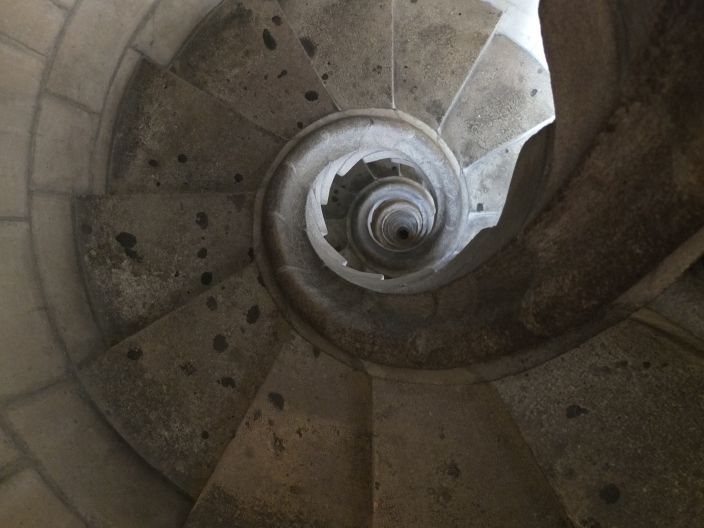 Looking up the spiral staircase inside the Passion tower of the Sagrada Família
The inside of the cathedral was simply breathtaking! I was especially moved by the stained glass windows and entrance doors!
Stained glass windows of the Sagrada Família
Ceiling of the Sagrada Família
Facade of the Sagrada Família: Such architectural detail!
One of the entrance doors to the Sagrada Família
If you are in Barcelona and have a chance to visit the Sagrada Família, make sure to buy your tickets in advance online. Just look at these poor souls waiting for hours under the blazing sun!
No shaded area to escape from the blazing heat if you forget to book your tickets ahead of time online!
Afterwards, I did some last minute shopping in the charming Barri Gòtic quarter, and got so carried away exploring the winding streets that I managed to walk all the way back to Catalunya station!
Italian raspberry gelato with a delicious chocolate/nut cone
One of the many charming public squares in the Gothic Quarter
Although the weather was a bit hot and humid for me, I really enjoyed my time in Barcelona, especially the shopping! I was a bit dissapointed in some of the places I ate–perhaps I just chose poorly?–and the tradition of eating after 9:00PM really did my stomach in. However, I had opportunities to make new friends and colleagues through the European Shakuhachi Society Summer School, and had ample time to explore one of Europe's most lively cities. I hope to have an opportunity to go back to Spain someday in the future and explore other cities and the provinces.