Today we began staging. Since this is the first time I have composed an operatic work, I wasn't quite aware of the incredible care and attention that director must pay to staging. In fact, after observing Matthew at work today, I understand how much creativity and vision is necessary at this stage of the production process. No matter how strong a libretto and the accompanying music may be, a work could ultimately fail without effective staging. It seemed tedious at times simply because there are so many levels of activity to attend to. However, when the staging works together with the music, magic truly happens.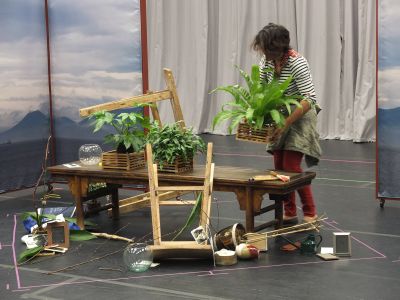 The Woman tending to the garden in post-tsunami chaos

Rei frantically racing across the stage in Scene 2, "Excuse me..."

(l to r) Director Matthew Ozawa showing librettist Kenny Fries various scene designs